Philippine herbal medicine
[Top]
---
Philippine herbal medicine was popular long before it became popular in the west before its popularity in the west. They have been using herbs like
banaba as a herbal medicine
for many years. In recent years, organizations, medical researchers, government agencies and pharmaceutical companies have looked seriously at folkloric
herbal medicine in the philippines
that are often employed by Filipinos living in rural areas.
[Top]
---
In Panay the Ati are known as philippine herbal medicine practitioners. The locals will frequently seek their help with the removal of leeches on a person's body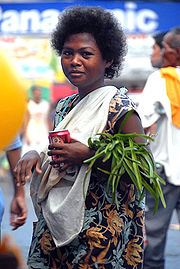 The Ati's are a Negrito (The term Negrito refers to numerous ethnic groups in remote areas of Southeast Asia) ethnic group who stay in Panay, Panay is situated in the Visayas (Bohol, Cebu, Siquijor, Samar, Leyte, Negros, Panay, Masbate, and Guimaras), it is the central area of the Philippine archipelago. Genetically they are related to other Filipino Negritio ethnic groups which include the Aeta people of Luzon, the Bataks of Palawan, and the Mamanwas of Mindanao. The Ati's, Aetas ancestors were the first inhabitants of the Philippines arriving 20 to 30,000 years ago probably arriving from Borneo. The Aetas in Bangkal ( a Aetas settlement area) like many other indigenous peoples have a strong connection with the forest. The Aetas believe the forest provides them with shelter and food, the forest has become their sanctuary in times war and sickness. The forest area is the foremost source of
all herbal medicine
plants which they use to heal common ailments like malaria, headache, and diarrhea and stomach ache.
Shaman healing
is also practised.
[Top]
---
Studies and research by the industries, government and academe confirm the effectiveness of particular herbs in the treating diseases. The Philippine Department of Health, (DOH) after thorough evaluation as well as years of some clinical trials has endorsed ten herbal plants for treating numerous diseases which range from hypertension and diabetes to asthma. These are the ten common herbs which have been endorsed by the DOH.
Akapulko- English translation; ringworm bush it is used for fungal infections and ringworm
Ampalaya- English translation; Bitter gourd or bitter lemon used for treating diabetes.
Bawang - Garlic used for reducing cholesterol therefore it helps to control blood pressure.
Bayabas - English translation; guava, it is used as an antiseptic and can be employed as a mouth wash.
Lagundi- English translation; chasteberry, it is used to treat such ailments as coughs and asthma
Niyog-niyogan- English translation; Chinese honey suckle it is used for intestinal infestation
Sambong- English translation: Blumea camphora it is used as a diuretic.
Tsaang Gubat- Know as forest tea, it is used for gastroenteritis, stomach pains, diarrhea as well as an antidote bleeding and poisonous snakebites
Yerba Buena -English translation peppermint, it is used as an analgesic to relieve pains and aches around the body.
                 Back to herbal medicine main page