Japanese herbal medicine
[Top]
---
Early evidence of Japanese herbal medicine can be dated back to 2,000 BC this is known as the Jomon period.
Archaeologists excavating the remains of Jomon residences discovered Kihada bark(Phellondron amurense Rupr.)
Kihada is the oldest herb medicine discovered in Japan. Kihada is a stomachic and anti-diarrhea medicine.
[Top]
---
The Ainu (pictured right) are an indigenous people of Japan. Ainu people have often been considered as descendents of the Jomons.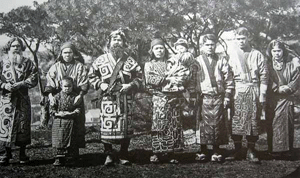 They used a number of herbs for medicinal purposes such as
Arikko: The Ainu used this herb for stomach pain. The roots of the plant were eaten raw or sometimes it was roasted.

They also made the roots into paste and applied them to wounds.

Orap or horap: The seeds are used for sore eyes. This was done by chewing the seeds up and putting it into white cloth ; then the juice is squeezed out into the sore eyes.

The roots were used for stomach ache and also chewed up to make a paste which was then applied to aching joints

Viscum album: The Aniu held mistletoe in high regard; leaves were used to treat many ailments.
Chickweed: The weed is used for external application to any part of the body that aches and for bruises. The leaves and stems are put in hot water then applied.
The Horse-chestnut: The nuts are frequently used for medicinal purposes.

They are dried and taken for future use. Then when they are required, it is soaked and scraped.

These scrapings are then put in water and the decoction is used to wash wounds with.
[Top]
---
At Shoso-in, in western Japan, medicinal herbs from 1,200 years ago were discovered in wooden air-tight boxes.
The researchers found many of the herbs still maintained their full medicinal potency.

[Top]
---
The Japanese herbal medicine system that exists today is known as Kampo. Kampo means Han method; it is a reference to the Han era (206BC-220AD) in china.
It is an adaptation and study of traditional Chinese medicine which was introduced in Japan somewhere between the seventh and ninth centuries. However Kampo chiefly studies herbs and has its own distinctive herbal medical system as well as diagnosis.
It has been used continuously for centuries although it was banned during the Meiji era (1866-1912). The public demand for Kampo in the late 1960s was so great that it was incorporated into the Japanese medical system.


[Top]
---
Fast forward to today and you'll find that Japan's national health insurance covers the use of Kampo medicines. Many physicians use some of the traditional formulas and they are available in pharmacies via prescription.
A nationwide study done in October 2000 revealed that 72% of physicians prescribed Kampo medicines.
Kampo herbal preparations are employed to treat a broad array of conditions such as high cholesterol, bedwetting, allergies, collagen disease, nausea, depression, colds, bronchial asthma and rheumatoid arthritis.
Kampo medicines are created by a range of manufacturers. Nonetheless, every medicine is composed of precisely the same components under the Japanese Ministry's standardization methodology.
Therefore these medicines are prepared under as strict manufacturing conditions as the rival pharmaceutical companies.
Over the recent decades animal and clinical research has been carried out by private clinics and university hospitals all over Japan.
Additionally research institutes and hospitals in China have also carried out research.
Return to natural healing home page
Go to herbal medicine main page